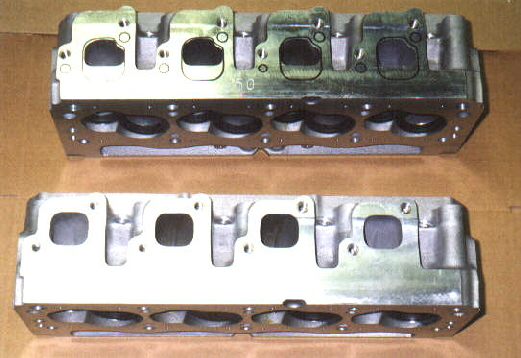 BLUE THUNDER FORD SMALL BLOCK RACE ONLY CYLINDER HEAD

This head is a canted valve (351C valve angles and location) Yates intake port location head that can use 2.02" to
2.20" intake valves and 1.60" to 1.70" exhaust valves. 7Occ and 50cc combustion chambers are available. Two
different exhaust ports are available. The high exhaust port is Yates bolt pattern and height. The low exhaust port
has a double Cleveland bolt pattern. The lower bolt pattern is stock Cleveland height with a port that functions as a
"stuffed Cleveland" port, in which the bottom of the port is filled. The second bolt pattern is .750" higher and aligns
the floor of the port with floor of the flange. The top of the port can then be cut out to match the flange for increased
exhaust flow.

All ports have .400" wall on them. This head has partly machined alcohol down nozzles that can be finished with
careful use of a hand held drill.

Manifolds for the head are available from both Ford Motorsport and Edelbrock.

This head is designed for the 350-426 cu. in. small block market, in serious racing engine. Intake ports with 10 to 1
5 minutes of work, will flow approx. 350-360 cfm at 28", with a 2.20 valve. (Please note: use a valve over 2.125"
only, in a big bore (4.125" - 4.155") application as cylinder wall valve shrouding is a problem). This intake port has
already been ported to more than 395 cfm at .800 lift. The Yates height exhaust port will flow approx. 240 cfm at
28" with a 1.70" valve at .800 lift (with approx. 10-1 5 minutes work per port). This port has already been ported to
285+ cfm with a full porting.

The lower Cleveland export starts at 200 cfm to 220 cfm in the lower position. The higher Cleveland location must
be ported and should flow 250 cfm when properly worked.

All B302 - 351C valve train components, including shaft rocker conversions, are compatible with this head, which
has generous rocker arm stud pads.

AGAIN, THIS HEAD IS FOR 350-425+ CU. IN. RACE APPLICATIONS ONLY!

Do not use in small cu. in. applications on the street.