We are NOT Stans Headers!
---
NEW Product
79-93 Mustang 5.0 Engine 8.2 block
All 5.0L Fairmonts also

Tri-Y design 1 5/8" primary
Several flange bolt patterns
Photo's in Restoration Grey Ice ceramic and displayed on early front sump oil pan

---
New Boss 429 HEADERS
Update: Boss 429 Tri-Y F.P.A Headers. Customers all report good to excellent fit. Max ground clearance.

Customer with 555 CID Kaase crate engine reported 819 HP and 696 Ft. Lbs. with this new header!
---
New Photo Sections in the Header tab:
Customer Testemonials and Pictures of Header Installs
---

427 Ford S.O.H.C header flanges for new Bill Coons heads. 3/8" laser cut. In stock!
Cammer headers to follow on popular demand !
---

Check out the new products and pictures listed for Headers and F.E. Products.
---
Looking For Headers??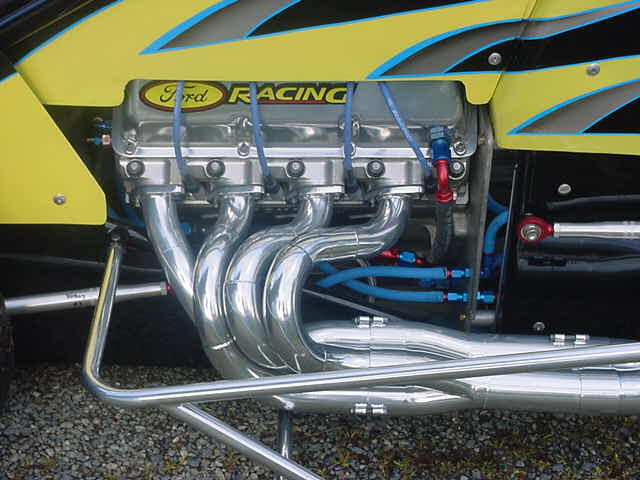 F.P.A. is always willing and able to create a new Ford header product for a new application that either is not being currently (best served) in the market place or a totally new application that has come into popularity because of a new steering, cylinder heads or motor mounts. We are capable of offering unique flanges to a current designs such as Twisted wedge R/ Dart/ Roush /Yates/ and Blue Thunder applications. We would like to help each and every Ford enthusiast but it's not always feasible. As much as I am the consummate FORD guy, I must always look at the business side of things and therefore, some combinations cant' be offered.
It is well known by most but not all that the Mercury line of Ford vehicles share the same header interchange. For example, the Cougars all share the same header fitment as the same year Mustangs. Same goes with Fairlanes and Comets, Galaxies and Mauraders. If you have a Mercury and are not sure, call us. --
Click Here To See A List of What We Offer
We Have NEW PRODUCTS In!!!
Have Some Questions??